Spring means warmer weather, pollen allergies, the beach, and consequently, SWIM SUIT SEASON! For those lucky men out there, you can pretty much be any body size in swim trunks and no one really judges you, with maybe the exception of yourself. I can't say the same for speedos, but it's all about context, of course. You better be glad you're not a lady because buying a new swimsuit can be torturous, not to mention robbery...I'm pretty sure it doesn't cost anywhere near $128 to make two tiny pieces of nylon clothing, especially when the tag says "made in the philippines."
Luckily for all you small-framed, flat-chested, no hips and little bellied ladies out there, I know the exact swimsuits that will flatter you! Coincidentally that happens to be my exact body type... wow, so weird how that happens.
-
Okay, so I love classic and I love Southern, and seersucker embodies both of these things. So this
J. Crew Seersucker retro one-piece
is perfect. The body is slimmed because of the vertical seersucker stripes, and the bandeau shape is my preferred style. J. Crew in general is a pretty reliable swimsuit shop year after year if you are looking for preppy and variety. I'm pretty positive this seersuckah number will last the ages too, if you're interested in longevity.
-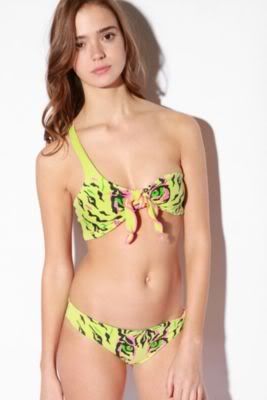 If you have a schizo personality like me, then your personal tastes also do a 180 and you find yourself in vintage shops, thrift stores, and urban outfitters where you apparently were in a fit of hipster blackout and don't remember when you became so wannabe alt. Regardless, here are bikinis, still bandeau for my fellow flat-chesties. Both are from UO- I tend to love Native American inspired stuff, so it's not that shocking that I enjoy this
fringe bikini
... I actually find this
tiger swimsuit
hideous, but it made me LOL. Also, its a good example of how many forms the bandeau can take.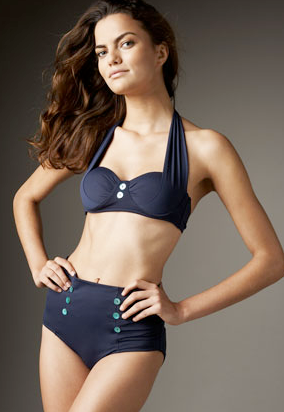 -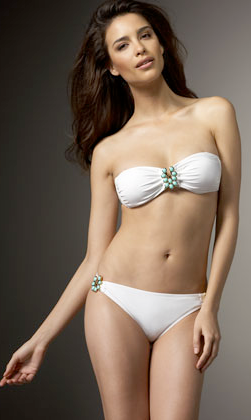 Finally, the high-waist is back in, which is a perfect excuse for girls with pouchy bellies to pretend they are just being trendy. A
high-waisted swimsuit
just looks retro and is def making a comeback (of course paired with a bandeau, like how many times do I have to tell you its awesome). And a
white bikini
will always make you look more bronzed. Just make sure it is lined otherwise it will be embarrassing after you get out the water.
This year, I am thinking about buying gold and blue lamé bikini separates from American Apparel because I think it's pretty cool to go swimming in metallics. The only problem with American Apparel is that nothing is lined because apparently its cool to see nipping, but I'm not really into that. We'll see, come spring break I'll be prancing around in a new suit getting my tan on. But not too much tan, that makes me nervous about cancer.