Seriously, cable TV needs to stop brainwashing me with unrealistic expectations. All these new wedding shows are training me to be an unreasonable bride. After watching "Say Yes to the Dress", I began searching for hypothetical dream dresses... but I soon realized that I beginning to pretend this was real life and that I was losing perspective on what thousands of dollars actually looks like. For example: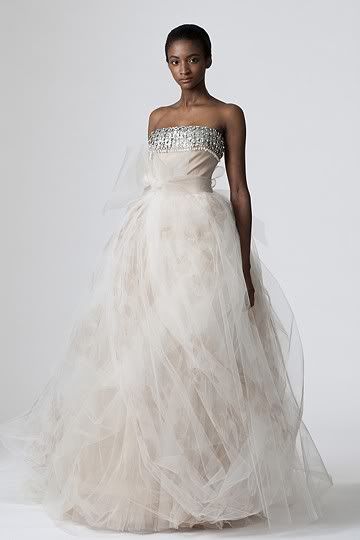 $4,600 - $7,990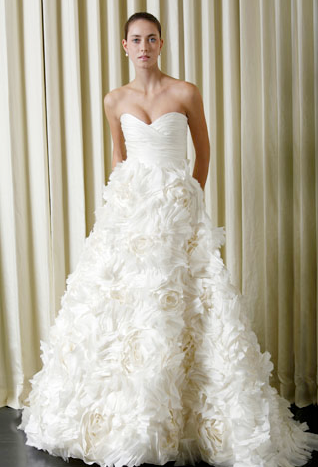 $$$$ (code on the monique lhuiller website meaning $7,000 - $20,000...such a narrow price gap, right?)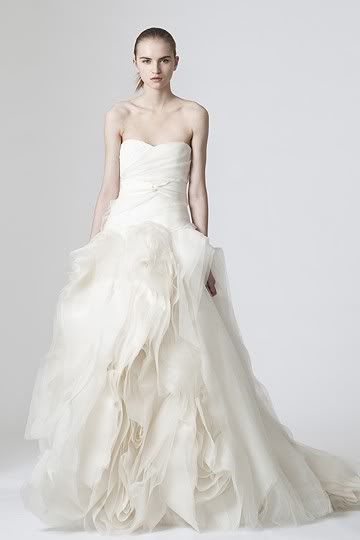 $6,100 - $7,990
Okay...so, after browsing through dresses for awhile, the differences in thousands started to seem like nothing. LIke, 4,000 to 7,000...no big deal, right? NO, THAT'S A 3,000 DOLLAR PRICE RANGE. THOUSANDS. I was obviously delusional. I mean, besides that fact that all those dresses look distinctly similar, I definitely don't have thousands of moola in my bank account...or a boyfriend...or even any friends that are boys.
On a more reasonable note,
Vera Wang is launching a collaborative, affordable line with David's Bridal!
Reportedly, the dresses will cost from $600 - $1400. The line isn't named yet, but I can't wait to see and maybe fantasize some more about my imaginary wedding on a lower budget.