Moleskine covers for your iPad and iPhone!!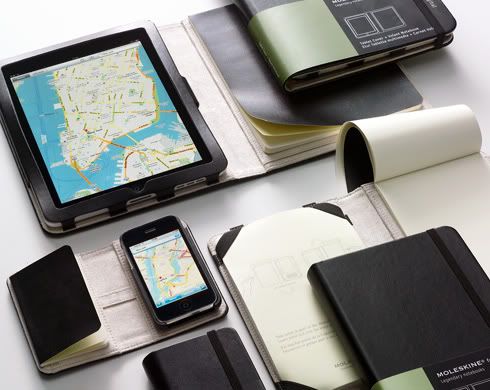 If you know me, you know that I love Moleskine. I am a huge fan of anything essential that is a classic. Agendas are one of those things... I'm not into designed covers, stickers, comic sans font... no. Black leather and Times New Roman, thank you. To be completely honest, I wouldn't mind a navy blue or camel brown leather Moleskine, but that's not exactly getting wild. Anyways, people just keep making things that make me want to purchase an iPhone (but let's face it, I could never deal with the constant fingerprints on the screen). HOWEVER, if I was an iPhone owner, I would fosho buy this Moleskine case for it... so cool. It makes the iPhone look classy. There's even some note pages, and the inside is lined in suede to protect your screen. There's a big cover for the iPad too.
Why don't people make cool things for blackberry? I would so buy everything for blackberry...