Okay, so not that I want to become one of those blogs that shows you everything I purchase and ask your opinion on it (as if I care...I already bought it, it's too late. If you don't like it I don't want to hear it), nor do I EVER want to become one of those blogs where I
dress up in my own home and take pictures using the timed mode on my digital camera as I pose in an attempt to look like a model
even though it is clear I'm under 5'12 and over 120 lbs, because the existence of such blogs makes me question how much I actually like other people and gag at how self-centered people can truly be...
well anyway this post is about neither of those things really, I just bought a
Chan Luu
bracelet via the world wide web and literally spent about an hour debating whether or not it was worth it: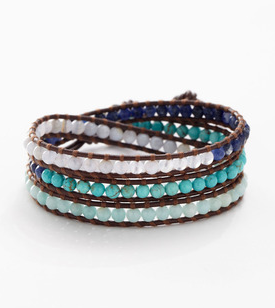 I mean clearly this flimsy bracelet composed of thin leather straps (probably found at hobby lobby) and stones (that could be bought for a fraction of the price for higher quantities at a gem and mineral show) was not worth the amount I paid for it. By no means do I regret the purchase, I'm just saying, I'm fully aware of the consumer extortion occurring. Also a props to Chan Luu for her success in branding since otherwise I would make the damn bracelet myself. I'm foolish. But who am I kidding, we all know when the package arrives in the mail, I'll be drooling and happy.
btw, there's like a ton of Chan Luu bracelet sales going on at Gilt and Bluefly